Hey All!

Pixel Studios is a two-man, award winning photography & makeup company that got its start in doing conventions. We are guest photographers at anime boston and will be running a Cosplay Photography panel on Sunday. (Come check us out! :D )

Additionally, we are also conducting private one-on-one and group photoshoots at Anime Boston 2011. This is our last call for anyone who would like to sign up.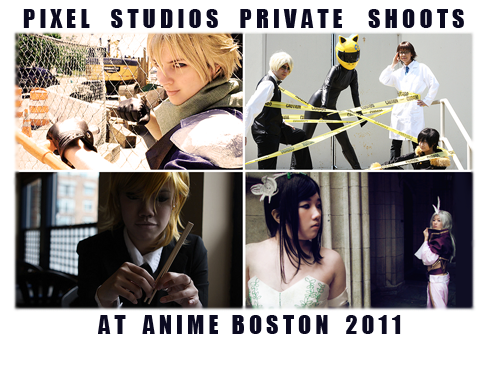 If you'd like to reserve a session over the weekend, please look under the cut for information, samples of past convention photography, special services, taken time slots, and contact information. Thank You, and have a great convention!



Information

+Photo sessions are by the half-hour or the hour.

+Half-hours start at 25$ for a single person, and 5$ extra per additional person. They take place at one location.

+Hour-long sessions will start at 45$ for a single person, and $6 extra per additional person. They will take place at multiple locations, to get various feels and backgrounds. (Best for groups!)

+Make-up services are offered at no additional charge. We have photo-specific powders that we will help you apply upon request.
-If you'd like us to do your makeup for you from scratch, however, please contact us for sample photos and to talk about what you'll need-- it will take extra time, and we will design a look for you that matches your character.

+We will select the best photos from the shoot, make any additional changes, and send them to you within two weeks of the date they were taken. While we may use your photos for publicity if given permission, we do not watermark our photos, unless requested.

+For Anime Boston, we will be available Thursday-Sunday. Shoots available 8:00am-9:00pm. For our currently taken time-slots, please look below the sample photos.

If you're interested in a shoot, or would like additional information please contact us at itspixelstudios@gmail.com or comment below. We will need to know the time slot you'd like, how many people are in your group, and what you will be cosplaying. Then we can discuss location and prep.

Sample Photos







Taken Time Slots

THURSDAY
ALL FREE

FRIDAY
12:00-12:30PM
3:00-3:30PM
4:00-5:00PM

SATURDAY
8:00-9:00AM
9:00-10:00AM
11:00-11:30AM
3:00-4:00PM
4:00-5:00PM

SUNDAY
10:00-11:00AM
11:00-12:00PM

See You At AB2011!